XTRADE_valentines_en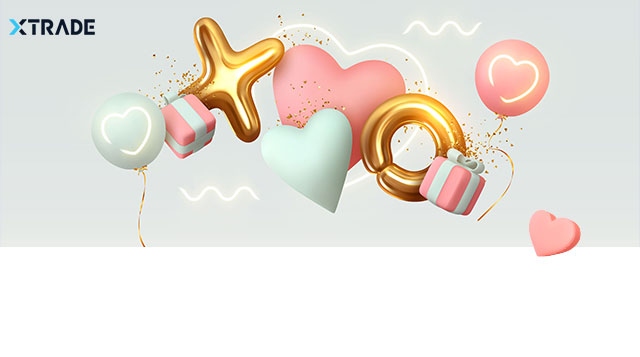 Dear Trader,

St. Valentine's Day is just around the corner, and we want you to celebrate the day of love with extra money. To heighten your celebratory spirit, we give you our special Valentine's Day bonus. The market may drop on bad geopolitical news and Feds' hawkish rhetoric, sending investors into a panic, but with the Xtrade's bonus, you can turn the loss of indices into your gain.

All you need to do to celebrate Valentine's Day


Register > Upload Documents > Submit the First Deposit
a Receive Cash Bonus*

| | | | | | | |
| --- | --- | --- | --- | --- | --- | --- |
| | | FTD Amount | | | Cash Bonus* | |
| | | | | | | |
| | | 500 – 749 USD | | | 150 USD | |
| | | | | | | |
| | | 750 – 999 USD | | | 200 USD | |
| | | | | | | |
| | | Over 1000 | | | 350 USD | |
| | | | | | | |

Our Valentine's Day bonus shows how much we care.

The Xtrade team.

Join us and start trading with love.


This offer is valid until February 28 2022.

*Several Conditions Apply:
We reserve the right to refuse or reject a registration, at our own discretion or based on regulatory restrictions imposed on us.
Cash Bonus is available for trading.
To redeem your bonus, you are required to reach a release volume of XPoints.
The bonus is available only once per account and only after submission of your documents and deposit.