XT_June_Newsletter_AU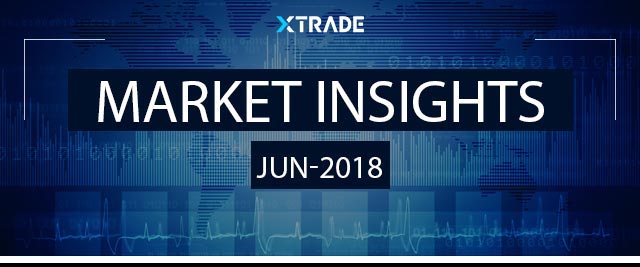 Oil Prices are shaken
by Geo-Politics

Supply cuts from the Organization of Petroleum Exporting Countries (OPEC) coupled with the US withdrawal from the Iranian Nuclear Deal, and the political saga in Venezuela rendered support for crude oil prices. Increased shale activities in the U.S., which brought its daily production to 10.52m+ barrels, were unable to dampen demand.

Saudi Arabia indicated that prices at $70bbl will encourage an IPO of their state-owned Oil giant "Saudi Aramco" further upside seen.

Promotion
Queen's Birthday


Enjoy a luxurious weekend getaway on the Queen's Birthday in June, 2018!

Deposit a minimum amount of USD $5000. Then open and close at least 3 trades by June 8, 2018 at 11pm GMT.

Forex and CFD trading involves risk of loss.

ACT NOW

Market Review

Watch our latest
Market Review on YouTube
Watch now

Xtrade's Blog


Fresh market news on




Xtrade's Blog, delivered twice a day

Read now

All Eyes on Fed

With the next Federal Open Market Committee (FOMC) meeting right around the corner, investors are anxiously

New Fed Chairman Mr. Jerome Powell raised the U.S. interest rate by 0.25%, or 25 basis points, during the March 21st meeting. A gradual increase of 3-4 times was indicated. Will the USD continue surging? or will it tank when the announcement is published?

https://blog.xtrade.com/5609-2/

https://blog.xtrade.com/wednesday-oil-day-with-fomc-rate-decision/

China-U.S. Trade War

U.S. President Trump has placed tariffs on steel, aluminum, solar panels, and washing machines. China then counter-attacked by placing tariffs of its own on American goods such as Sorghum, pork, fruits, and nuts. Eventually, both sides agreed to hold off any aggression, while the two met for negotiations. Details of the agreement remain obscure. However, any non-compliance or breach could ensure another bout of muscle flexing, which has produced headlines for weeks, impacting commodities, indices and the currencies USD, EUR, CNY, and JPY.